Weaving
---
Our Weaving Division at Danliris was first established in 1974 was one of the first operating units in the company's history. Having experienced rapid growth since then, our Weaving Division has increased the size of its workforce in addition to modernizing the production process; we currently use 301 air jet loom machines to produce more than 36 million meters of unfinished fabric per annum. Furthermore, we also produce greige fabric which is sold to markets in Europe and Asia in addition to local buyers.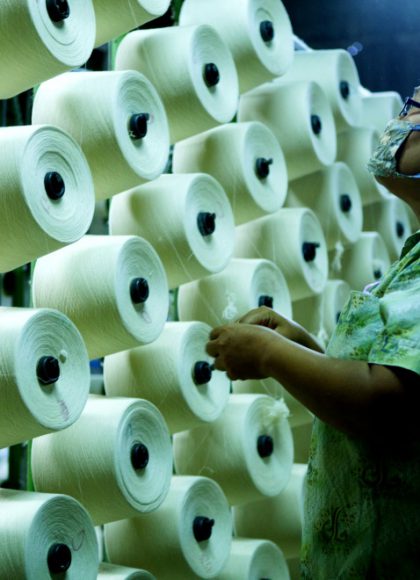 Through our Weaving Division we produce:
Polyester Cotton Combed
100% Cotton Combed
100% Cotton Carded
100% Polyester
Polyester Rayon
100% Rayon
100% Tencel
Modal/Cotton
Dobby Weave
Plain, Twill, Satin, Oxford & Pique
Herringbone
Gingham/Yarn Dyed
Tencel/Bemberg
Cupro
Jacquard
Through our Weaving Division, we have the capacity to produce woven strands that can be interlaced into different patterns. Once the yarn is selected, the amount of warp needed for the fabric is then calculated and our specialist technicians will monitor the warping process for any flaws or pulls; mending any imperfections.
Moreover, as part of our ongoing plans to diverse our manufacturing services, the Weaving Division also produces Jacquard woven fabric. This type of weaving system allows for greater versatility and diversity in creating textured patterns; our facilities enable us to produce a vast number of patterns from stripes, to florals and polka dots. Available in a variety of fiber compositions and weight such as wool, cotton, silk, and linen — the fabric is also durable and strong.
Weaving Division
---
Adhering to our clients' requirements, we select the finest yarns through which we examine all aspects of the material from the fibre type, its thickness, its strength, and how it will be spun — each variable will impact the final product.
Need more information?
Contact us to find out more about the customised solutions that we can offer you