Spinning
---
The Spinning Division at Danliris is integral in our capacity to provide our clients with a broad selection of yarns. Producing more than 88,300 bales of yarn per annum utilising 98,000 spindles, the division is organised into two units each specialising in a different type of yarn for varying market segments. Our focus on efficiency and quality control are core components of our spinning manufacturing services. Implementing these factors begins with sourcing the highest standards of raw materials from international suppliers — we source only the best cotton from countries such as the USA, Australia, and Brazil. As a company that can cater to the diverse needs of our clients, we understand the intricate details of cotton fibres and the impact various quality parameters have on our textile end-products.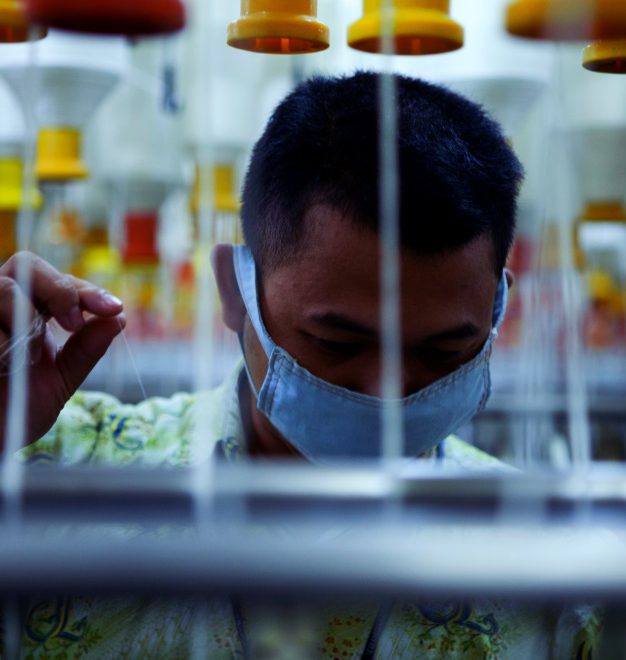 As a company that is expanding upon our spinning production process, our spinning units can manufacture a wide variety of yarn blends. These include:
Polyester Cotton Combed (Ne 16's ~ Ne 45's)
100% Cotton Combed (Ne 30's ~ Ne 50's)
100% Cotton Carded (Ne 16's ~ Ne 40's)
Rayon (Ne 20's ~ Ne 60's)
TR (Ne 20's ~ Ne 45's)
Recycled Rayon
Modal/Cotton (Ne 40's ~ Ne 60's)
Tencel (Ne 30's ~ Ne 80's)
Cupro (Ne 30's ~ Ne 40's)
Slub Yarn
Recycled Cotton
Furthermore, we have invested in the latest machines such as the Toyota RX-300 spinning machine in addition to new auto-sorters from Switzerland and automatic winders from Japan. Through this commitment, we can facilitate the production of thousands of varieties of 'slub' yarns which are increasingly used to make knitwear and home textiles. This further underlines how through our Spinning Division, we can adapt to provide your brand with a value-added service through which we can produce your distinctive product range.
Spinning Division
---
The Spinning Division is composed of three units that produce quality yarns for the domestic and international market.
Need more information?
Contact us to find out more about the customised solutions that we can offer you