Garment
---
With decades of experience in Indonesia's textiles and garment manufacturing industry, the Garment Division at Danliris exclusively produces for the international market. We have formed longstanding relationships with some of the world's biggest brands — Barbour, Ted Baker, Michael Kors, and Trutex among others — who recognise our in-depth understanding of quality control and high operational standards that have allowed us to have an export presence throughout Europe, Asia, Africa, the Middle East, as well as North America.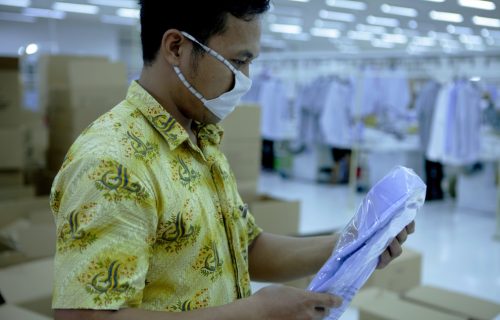 Through our garment division we produce:
Men's & Boy's Shirts
Women's & Girl's Blouses
Dresses & Aprons
Children's Wear
Pyjamas
Printed T-shirts
Blazers
Jackets
Currently utilising more than 2,800 state-of-the-art sewing machines, our Garment Division has a production capacity of 7.5 million pieces per annum and can cater to complex and specialised orders making this division highly diversified. This means that we are well versed in working with companies of varying size from small businesses to more established larger companies and offer small batch orders. We make available a broad suite of specialised machinery to all of our customers including an Auto-cutter, Template Machine, Pintuck Neckline, Embroidery Machine, Collarbone & Label Maker, Automatic Button Sew Indexer, Automatic Darts Seamer, Automatic Button Hole Indexer, Automatic Sleeve Placket Setter, Automatic Pocket Setter, Label Applicator, Collar & Cuff Runstitch Machine.
After the pattern design has been confirmed, our team utilises a computerised model to enable total accuracy and consistency when making the patterns, sizes, and colours for each garment; the expense and time are also reduced compared to the manual designing. For garment components that require custom logos, our established embroidery unit caters to this need — this service is popular for corporate uniforms — and is part of our creative suite of solutions that we offer to our clients.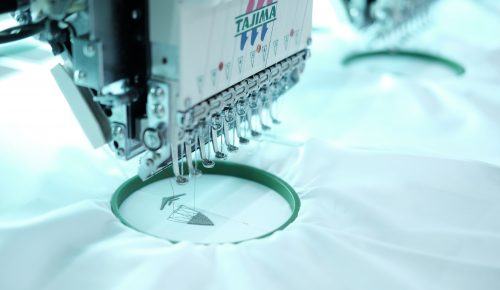 Furthermore, the Garment Division implements quality control measures for moisture content to prevent fungal growth after the garments have been steam ironed. This is an important feature as part of our final inspection procedure through which our quality control team ensures that any possible defects are identified before packing and sorting. As the fashion apparel industry is characterised for its fast-paced cycles, our all-encompassing garment manufacturing service can help our clients stay ahead in this highly-competitive industry.
Garment Division
---
Dan Liris is a trusted garment manufacturer for numerous leading international fashion brands. Learn more about our extensive customer base and brands that we support to provide customised end to end solutions.
Need more information?
Contact us to find out more about the customised solutions that we can offer you